WHAT IS A GUARDIAN AD LITEM: WHEN ARE THEY NECESSARY?
Date:
Tuesday, January 22, 2019
Location:
Hemmingson Center - Gonzaga University Campus
Speaker:
Lisa A. Malpass, J.D., Winston & Cashatt, Lawyers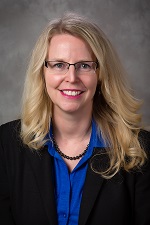 Continuing Education has been approved for this live presentation with CFP Board, MCLE, and CPE - OIC was not approved. Please see link below for the outline and powerpoint presenation.
Please join us for our January 22, 2019 dinner meeting located at the Hemmingson Center - third floor ball room. Social Hour begins at 5:15p.m. and the presentation will start at 6:00 p.m.

WHAT IS A GUARDIAN AD LITEM: WHEN ARE THEY NECESSARY?
LISA A. MALPASS received a Juris Doctorate of Law degree (honors) from Gonzaga University School of Law in 2003. Since 2003, Lisa practices law in Washington State and in the State of Idaho since 2014. Lisa earned a Master's degree in Public Administration (MPA) in 2001 and in 1994 a Bachelor of Arts degree (BA) in Government from Eastern Washington University. From 2003 to 2009, Lisa was employed with DSHS/Home and Community Services Division serving as an in-house legal benefits attorney for the Adult Protective Services program. From 2009 to 2012, Lisa was an Attorney Advisor for the Social Security Administration/Office of Disability Adjudication and Review (ODAR). In 2012, Lisa opened and owned Malpass Law Office, P.S. In 2014, Lisa joined the law firm of Winston & Cashatt, Lawyers in Spokane, Washington and became a Principal of the Firm in 2015.
She is a member of the Washington State Bar Association (WSBA) and Idaho Bar Association (ISB). In 2017, Lisa became a participant of the Title 11.88 Guardian ad Litem State-Wide Advisory Committee. She is also a member of the Spokane County Bar Association (SCBA); member of the WSBA Real Property, Probate and Trust, Elder Law and Administrative Law Sections; and is the 2019 President for the Washington Academy of Elder Law Attorneys (WAELA). She also serves on the Spokane County Superior Court Title 11.88 Guardian ad Litem Registry, Training Committee and Guardianship Forms Committee. Lisa is the past president and current member of the Spokane Chapter of Washington Women Lawyers (WWL) and graduate of Leadership Spokane.
Areas of practice include guardianship law, estate planning, probate administration and litigation, vulnerable adult protection orders, Title 11 Guardian ad Litem appointments, administrative appeals, wills, healthcare directives, power of attorney drafting and consultation.
PROGRAM DESCRIPTION OUTLINE
Black's Law Dictionary defines a Guardian ad Litem as "a guardian, usually a lawyer, appointed by the court to appear in a lawsuit on behalf of an incompetent or minor party." The necessity of a guardian ad litem in Washington State arises in many contexts such as, but not limited to, dissolutions, trust matters, personal injury settlements, probate matters, Involuntary Treatment Act and guardianship to name a few. Estate planners should be aware of the role of a guardian ad litem or when to identify when one is necessary.
A. Guardian ad Litem different applications:
a. Trusts RCW 11.96A – Trust Estate Dispute Resolution Act
b. Probates RCW: 11.76 – Settlement of Estates
c. Guardianship RCW 11.88 – Guardianship for Adults and Minors
d. Other RCW 4.08 – Parties to Actions
B. Questions and Answers from the Audience (Q&A start 7:00 p.m.)
Presentation concludes 7:15-7:30 p.m.


Continuing Education has been applied for this live presentation with CFP Board, MCLE, OIC and CPE - once approved the presentation will be uploaded to this event.

Related Document(s):
Related Link(s):